My Culture, My Story: Celebrating the diversity of cultures that have shaped our shared heritage.
18 April to 20 May 2018.
Register your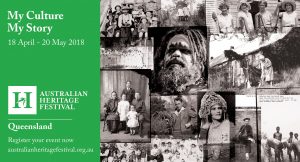 event and be a part of a nationwide celebration of heritage events across the states and territories. It is free to register.
Find out more at the Australian Heritage Festival website.
The Festival is an opportunity to reflect on the places where we live, work, and travel, and why they are special, celebrating our many diverse and distinctive cultures. We call on communities to tell their stories and celebrate their traditions, including storytelling, music, food, dance, traditional games, and crafts.
The Australian Heritage Festival is supported through funding from the Australian Government's National Trusts Partnership Program.