Artist Kenneth Lambert talks about his sound and visual art installation 'How can you sleep?' and what inspired his creation.
Listen to artist in residence, Kenneth Lambert, speak about his exciting contemporary art installation inspired by Parramatta convict artisan Alexander Hart at Old Government House. Using a crafted bed frame which is attributed to Hart, Artist Kenneth Lambert has created a projected light and sound installation entitled How can you sleep?
In Ken's words "Hart's bed frame poses a critical question about the period in history in which it existed. Hart, a highly regarded convict artisan, most likely made this structure for Robert Lowe, a wealthy landowner and magistrate who assisted Governor Macquarie in expanding the colony inland. An expansion which included the traumatic dispossession and displacement of Aboriginal people and the clearing of the land for agricultural use."
When introduced to Hart's bed, Ken recalled Midnight Oil's protest song, 'Beds are Burning.' released in 1987, written by Rob Hurst. The song's critical lyric, 'How do we sleep, while our beds are burning', triggered a question: How did the bed's occupants sleep with the spectre of human suffering around them?
This is your chance to find out more about his inspiration and how he created the artwork. The talk will last about 45 minutes with time for Ken to answer any questions you might have. After the talk take your time around the rest of the exhibition, finding out about other convict artisans. Our expert guides are onsite to also give you a tour of the rest of the house.
This talk is just one event part of the Making Good – Convict Artisans in Exile exhibition currently running at Old Government House in Parramatta.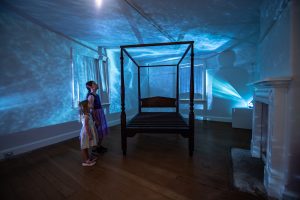 Artwork: How can you sleep?, 2022, Kenneth Lambert. Photograph by Cassandra Hannagan
Event details
Don't miss this one-off talk by artist Kenneth Lambert from 2pm – 3pm on 6 August 2022.
Tickets
This talk is included as part of General Entry tickets to Old Government House.
Book via Eventbrite where possible, to guarantee a spot.