Don't miss this new travelling exhibition from the Australian War Memorial featuring the works of leading contemporary Australian artists which highlight how war art can lead us to consider different ways of thinking about current and recent conflicts.
Showcasing diverse responses to war, this impressive exhibition includes more than seventy paintings, drawings, films, prints, photography and sculptures on display at Sydney's S. H. Ervin Gallery.
Leading Australian artists are represented, such as Khadim Ali, Rushdi Anwar, eX de Medici, Denise Green, Richard Lewer, Mike Parr and Ben Quilty. Aboriginal and Torres Strait Islander art, a collection priority for the Memorial in recent years, is featured, with works by Tony Albert, Paddy Bedford, Robert Campbell Jr, Michael Cook, Shirley Macnamara and Betty Muffler.
Contemporary artists' responses to conflict bring to light untold stories, reveal neglected histories and deepen our understanding of Australia's experience of conflict, both past and present.
The exhibition will debut three major new bodies of work: recent official war art commissions by Susan Norrie (Iraq, 2016) and Megan Cope (Middle East, 2017) and a landmark commemorative work by Angelica Mesiti.
Supported by research from an Australian Research Council (ARC) Linkage Project.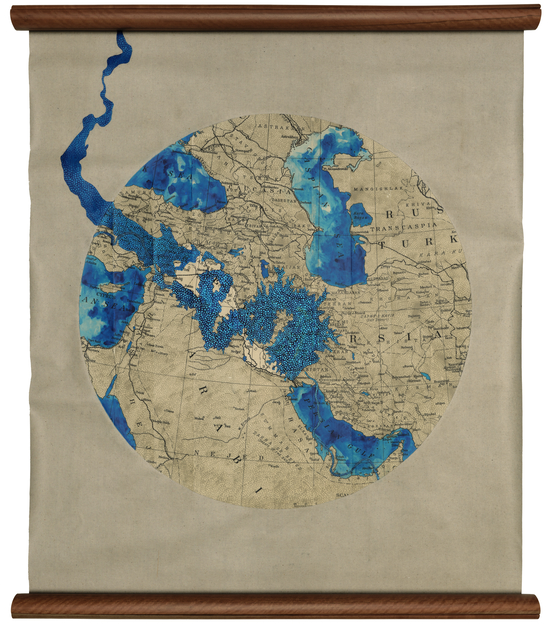 Artwork:
Megan Cope (Quandamooka people) (b. 1982)
Flight or Fight #1 Old Rivers, Deep Water (Lake Qadisiya & Lake Assad) 2018–2019 engine oil, ink and acrylic on paper and linen, mounted on North Stradbroke Island blue gum 121 x 103 cm Australian War Memorial collection
Exhibition details
Exhibition open 11am – 5pm, Tuesday – Sunday from Saturday 29 July – Sunday 10 September 2023.
How to book your tickets
Exhibition entry is included in a valid S.H. Ervin Gallery entry ticket.
Book via Eventbrite where possible.
Partners
Australian War Memorial
Australian Research Council