Join us in the grounds of historic Lindesay at Darling Point to hear Author Christine Stewart, discuss the restoration and fascinating history of Collits' Inn.
Christine Stewart trained as an artist, and in 1998 she and her husband took on a project to restore the derelict but historic Collits' Inn which was built by an ex-convict in 1823 to welcome travellers who had descended the Blue Mountains on their way to Bathurst and the West.
Join us to hear author Christine Stewart talk about the fascinating history of Collits Inn and the restoration project that inspired her to write her book: Collits' Inn: Uncovering the Past.
Light lunch and refreshments are included.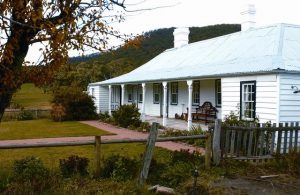 Image: Rob Shaw of Gourmet Traveller.
How to book your tickets
General admission tickets: $75
Book via Eventbrite, where possible, to guarantee a spot.