Notice of 43rd  Annual General Meeting
The 43rd Annual General Meeting of the National Trust of Australia (ACT) will be held on Thursday 18th  October 2018, in the Theatrette at the Canberra Museum and Gallery (CMAG), North Building, Civic Square.
Drinks and nibbles will be served from 6.00pm with the AGM starting at 6.30pm.
This will be followed by guest speaker, Dr Sherene Suchy: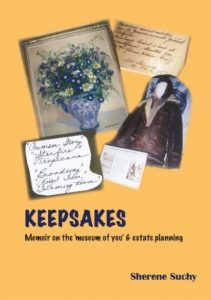 Three Ps for Estates-Planning, Provenance and Protecting Heirlooms.
Dr. Suchy was furious when an executor for her estate visited her home and said, "Most of this will go to Salvos". The home was full of antiques, collections and family heritage! Her fury prompted The Keepsakes Project, putting into practice what she teaches in her book Keepsakes: Memoir on the 'Museum of You' & Estate Planning (2016). During 2017, Sherene documented provenance on 90 keepsakes and gifted them to family and friends or donated them to museums. In this session, Sherene will share heart-warming stories about the project, the importance of an up-to-date will, how to document provenance, and a letter of direction for heirlooms with heritage value.
Dr. Sherene Suchy is a Canberra-based social worker and a member of both the International Council of Museums and the ACT Writers Centre.
Copies of her book will be available on the night or can be ordered online: www.duopluseq.com
Members are invited to nominate persons for election to Council.  Nominations must be made and seconded, in writing and signed, by current members of the Trust accompanied by signed consent from the nominee. Completed nomination/proxy forms must reach the National Trust Office by 5pm, Thursday 20th September 2018. Address: PO Box 1144 Civic Square ACT 2608 or email info@nationaltrustact.org.au.
NOMINATION FORM & INVITATION/PROXY FORM
Please RSVP for the AGM (for catering purposes) by Tuesday 16th October – call the National Trust Office on 6230 0533 or email info@nationaltrustact.org.au