National Trust of Australia (ACT) Heritage Awards 2018
Announced on 15 October 2018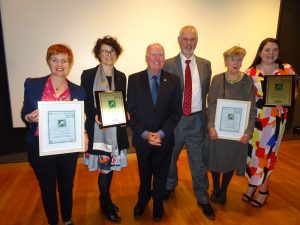 Report from the Judging Panel
For this, the fifth year of these awards, the judging panel consisted of Dr Alison Wain, CourseConvener for the Bachelor of Heritage, Museums and Conservation at the University of Canberra;Professor Nicholas Brown of the ANU School of History, representing the ACT Heritage Council;and Ken Charlton AM LFRAIA, an architectural historian and member of the National Trust ofAustralia (ACT) Heritage Committee.
All nine projects nominated have much to commend them, but four of them were deemed not quite up to the high standard reached by projects recognised in previous years.
Two entries each received an Award for an Outstanding Project: 
Canberra Modern
This festival, which celebrated the mid-century modernist heart of Canberra, was made up of nine fun events, including exhibitions, walks, talks, markets, a martini masterclass and a themed dinner. The first year of what is intended to be an annual event was hosted by University House and was part of DESIGN Canberra. It had significant media coverage and was attended by over 1000 people, while others followed it on social media. Canberra Modern, with the involvement of several high-profile personalities, appears to have succeeded in its aim of raising awareness of mid-century modern elements of Canberra's cultural landscape and their heritage value. Amy Jarvis, Edwina Jans and Rachel Jackson are to be congratulated on the innovative concept and success of this worthwhile project.
Old Parliament House Lower Senate Wing Refurbishment
Offices and committee rooms in this wing of the heritage-listed Museum of Australian Democracy have been re-activated for modern-day use in an exemplary manner, in accordance with the Heritage Management Plan for the building. The way this has been done, with the careful retention of evidence of superseded (and normally unappreciated) services and building fabric, cannot be faulted. The judging panel was impressed by the attention to detail evident throughout the project and the enthusiasm of the staff members as they explained what has been carried out. The project's outstanding contribution to heritage conservation became even more apparent in the plant room, where old and new technologies were seen side by side.
Three entries were each awarded a certificate for a Significant Contribution to Heritage
Conservation:
Violets Park Commemorative Installation
A revered Elder of the Ngunnawal people, Violet Bulger, was first honoured in 1993, the year of her death, when this neighbourhood park, in the suburb of Ngunnawal, received its name. The Tuggeranong Arts Centre's initiative in arranging for a sign to explain her life story, accompanied by a sculpture 'Meeting Place' to encourage contemplation, is to be applauded. The project was supported by an ACT Heritage Grant, ACT Government funding through artsACT and Australian Government Regional Arts funding. Many Indigenous people of the ACT region, including members of Violet's numerous extended family, gathered in the park to celebrate the launch of the installation. They now have an appropriate meeting place for future gatherings. The project has made a significant contribution to people's appreciation of the rich history of Ngunnawal country.
Jefferis/Whelen Journals Conservation
These three remarkable 1926-31 journals in the collection of the Canberra and District Historical Society provide a wide-ranging overview of life during the early years of Canberra. A small band of CDHS members has undertaken the conservation project with remarkable dedication. They succeeded in having the fragile journals heritage-listed, then arranged for grant-assisted professional conservation and repair work. As the journals cannot be published until problems of copyright are solved, they have been digitised and 25 copies were printed under another grant. Access to these copies for educational purposes has been achieved, either for individual study or at workshops offered to community groups, which have proved very popular and more should follow. This project has conserved these important documents and provided people with a new insight into aspects of local heritage.
Barton and Kingston Pillar Signposts Conservation
The Kingston and Barton Residents' Group has followed up their report into Barton's streetscape which received a National Trust Heritage Award in 2016, by completing this project. The previously neglected signposts have been restored by a dedicated team of ten volunteers. The project benefitted from a professional conservator, who made critical repairs and trained the volunteers, with the aid of a heritage grant. There are now nine beautifully conserved signposts which make a significant contribution to the character of the heritage-listed suburb of Barton and part of neighbouring Kingston. Another outcome of this project is that advice is available to anyone wanting to conserve similar signposts elsewhere in Canberra.
This event was sponsored by: