Eight Hundred Metres (and Up) is a series of collaborative mini projects located in the Blue Mountains and the Southern Highlands by photographer Tracy Ponich, painter Leanne Booth & metal artist, Mark Kelly.
Eight Hundred Metres (and Up) is a collaboration of three artists from the Blue Mountains and the Southern Highlands. Over more than two years and working around two lockdowns photographer Tracy Ponich from Katoomba, painter Leanne Booth from Bowral, and metal artist Mark Kelly from Mittagong shared their own regions. They took each other to beautiful vistas, misty rainforest floors, and little-known and rarely visited places. The result is a series of unmissable mini projects. Along with the finished works for sale, each project incorporates ink drawings, notes, postcard-sized photographs, and illustrated journals detailing shared days in the higher lands of NSW. Together, the artists bring three wholly different interpretations of mountainous places, along with stories of process, collaboration, and growing friendships.
"As the crow flies, Echo Point to Mount Gibraltar is a mere 82 km, half the motorway distance, and a much more pleasant route over the high lands…"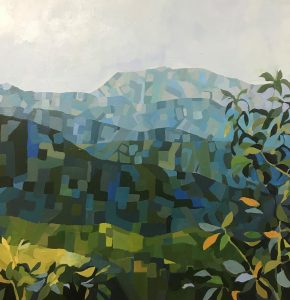 (L) Leanne Booth: The View Toward Katoomba, acrylic on canvas, 2020
(R) Tracy Ponich: From Here to There, photographic print, 2020
How to book your tickets
To ensure the health and safety of the community, the National Trust (NSW) requires pre-booked tickets.
Pre-book your ticket to Eight Hundred Metres (and Up) – Exhibition via Eventbrite.
Enquiries
Enquiries: email everglades@nationaltrust.com.au