The National Trust of South Australia acknowledges the Traditional Owners of the land who walked for millennia these tracks on which we walk today. It pays respect to Peramangk and Kaurna Elders past, present and emerging and their continuing cultural and heritage beliefs
In the early years of European settlement, the Prussian migrant women carried their produce from Hahndorf through the Adelaide Hills to market in Adelaide. The labour of these women and girls who regularly made this 26km walk saved the fledgling colony from starvation.
In 1980, the National Trust of South Australia and Walking SA rediscovered a map documenting the path the women took. They named it the Pioneer Women's Trail. Since 2009 it has been an annual event with thousands of registered walkers.
This year, we invite you to join us as we follow the Trail. You will walk country roads, laneways and bush tracks through a delightful section of the Adelaide Hills with historic homes, deciduous trees and native bushland all around you. You can begin your journey at Hahndorf (26km), Bridgewater (19km) or Stirling (12km) depending on your preference and abilities. Upon arrival at Beaumont House, enjoy stunning city views, food vans, live music and beautiful surroundings as you unwind with your fellow walkers and newly made friends.
The next walk will take place on Sunday 21st May 2023
Registrations are now open!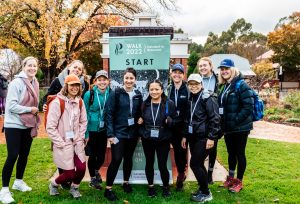 The full walk starts from 7.30 am from The Academy; 68 Main Street, Hahndorf and ends at Beaumont House (631 Glynburn Road, Beaumont); however, you can choose to join the event at any of the starting points located at Bridgewater, & Stirling:
REGISTRATION:
Purchase tickets here.
START LOCATIONS:
Once you have arrived at your start location, you have checked in and received your participant lanyard – You can start!
Hahndorf check-in, from 7.30-8.30 am (26 km walk): from The Academy; 68 Main Street, Hahndorf
Bridgewater check-in, from 9.00-9.30 am (19 km walk): from Bridgewater Lions Park, Corner of Mount Barker and Bridgewater Road
Stirling check-in, from 10.00-10.30 am (12 km walk): from Stirling Steamroller Park, corner of Mount Barker Road and Avenue Road
COST:
Adult: $30.00 per person
Children 15 and under: Free
National Trust Members: $15.00 per person
Group of 5 or more starting at the same location: $25.00 per person
Bus Ticket: $12.00 per person
ENQUIRIES
Registration and ticket enquiries: 8202 9200 (select option 2 from the menu)
General enquiries: 0429 349 843
Important event information: