Visiting Ayers House museum gives people the opportunity to feel as though they have stepped back in time. Educators and children love seeing and touching things from the past.
Ayers House is a unique learning environment for students of all ages. It preserves a significant legacy of Australia's colonial history, including the grand public spaces like the State Dining Room and the working areas where servants toiled to support the household.
The National Trust of South Australia has a variety of program for all years levels and has prepared a series of resources to help teachers and students explore the value of heritage in fun and surprising ways.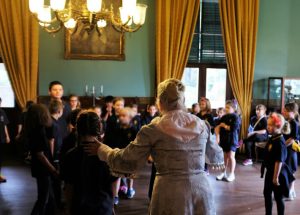 View all programs on offer below
Ayers House Museum School Programs 2021
Programs for Secondary Students 2021
Home Schooling Education Programs 2021
Bookings and enquiries: Call (08) 8223 1234 or email Helen at hlawry@nationaltrustsa.org.au
---